Arts and Heritage Day in Olympia is February 5, 2020!
Celebrate Washington's arts and heritage organizations and institutions, and demonstrate to our elected officials and government leaders how important the museum community is to the people of Washington at the annual Arts and Heritage Day at the Capitol in Olympia, Wednesday, February 5, 2020.
In conjunction with this event, a full day of workshops is presented by the Washington State Historical Society on  Tuesday, February 4, 2020.
Arts & Heritage Day is hosted by the Washington State Arts Alliance, Washington Museum Association, Washington State Historical Society, ArtsWA, ArtsEd Washington and Artist Trust.
Schedule of Activities
Tuesday, Feb. 4, 2020
Feb 4: WSHS Workshops
Please join the Washington State Historical Society for a day of workshops and networking on February 4th at the Lord Mansion in Olympia.  There will be presentations on celebrating women's suffrage in your community, the Heritage Capital Projects grant, tips for emergency preparedness and a small museums round table covering topics including collections care, volunteer recruitment and membership programs.   The workshops will be followed by a reception hosted by the Washington Museum Association.

The cost is $15, which includes lunch.
https://49882.blackbaudhosting.com/49882/Arts–Heritage-Programs

Feb 4: Arts & Heritage Day Reception (WaMA)
5:00 to 7:00 PM
RSVP to Allison Campbell
253-798-5919 • allison.campbell@wshs.wa.gov
Lord Mansion, 211 21st Avenue SW, Olympia 98501.  Four blocks south of the Capitol Campus.
State Capital Museum directions and parking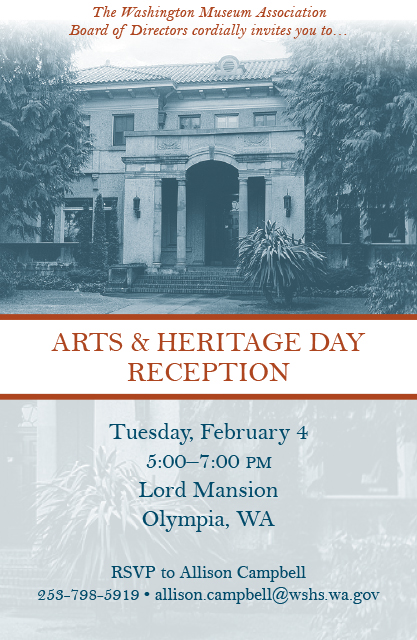 Feb 5: Arts & Heritage Day (RSVP through Inspire Washington)
This is an exciting event that brings together artists, arts, humanities and heritage leaders, science organizations, and cultural professionals from across Washington state. Arts, Heritage & Science Day is hosted by the Artist Trust, ArtsEd Washington, ArtsWA, Humanities Washington, Washington Historical Society, Washington Museum Association, and Inspire Washington.
Heritage Caucus 7:00 to 8:00 a.m. Cherborg conference rooms A,B,C
Check-In Table 8:00 a.m. to 3:00 p.m. Location TBD
Arts WA Board Members 8 – 9:30 a.m. to check-in at ArtsWA table
Orientation / Legislative Briefings 8:30 & 9:30 a.m. Information review for meetings with legislators
Senate invocation around 9:30am in Senate Gallery
Arts WA & Humanities Washington Office Hour 10 – 11 a.m. – Staff available to answer questions about project support grants for groups and organizations, Arts in Education grants and programs, Creative District Certification program, Building for the Arts, Art in Public Places, Speakers Bureau opportunities, etc.
Meetings with Legislators (all day as scheduled TBA)
Rotunda Showcase 12 p.m. to 1:00 p.m. Capitol Rotunda – performers TBD
Download the free VoterVoice app on your phone to get all the information about the day, access materials, see your schedule, and share notes from your meetings with legislators.