WaMA Seeks New Board Members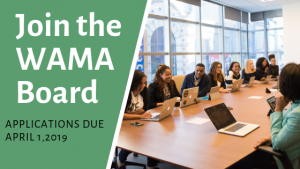 The Washington Museum Association is currently recruiting new board members to fill four vacancies. We are seeking nominations for board members who are committed to the museum field and believe in WaMA's mission.
Qualifications:
Serving on the WaMA Board is a meaningful way to engage in the broader museum community as the organization addresses the challenges and opportunities for museums in Washington State. It is also a thought-provoking opportunity to work with and learn from colleagues.
The board meets at least five times a year at various museum locations in the state and at least once by teleconference call.
 Board members serve a term of three years and can be reelected for a second term. Board members also serve on committees and are active participants in the annual conference and workshops. The time commitment for board members is 3-5 hours per month, depending on time of year and organizational role.
Applications due April 1, 2019
WaMA seeks poster session proposals
Apply today
Application Deadline April 12, 2019
Arts & Heritage Day Workshops Rescheduled for March 26
More information here.