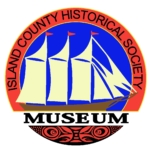 Website Island County Historical Society Museum
Embracing the Past, Engaging the Present, Enriching the Future
ISLAND COUNTY HISTORICAL SOCIETY MUSEUM
JOB DESCRIPTION
EXECUTIVE DIRECTOR
Salaried position/full-time 40 hrs/ $60,000 annually, plus $5,000 health benefit stipend
Position directly serves at the benefit of the Island County Historical Society and Museum, Coupeville, Washington and answers to the Board of Trustees.
This position manages and oversees all facets of the non-profit 501(c)(3) organization including that of the Museum. The Executive Director is responsible for supporting and overseeing the vision of the institution, exhibition planning and implementation, collections and archival management, education and public programing and outreach, development and grant writing, planning and execution of fundraising programs and events, and management and training of staff and volunteers. The Executive Director works directly with the Historical Society Board of Trustees to execute all aspects of the Museum's administration and operations.
SPECIFIC DUTIES:
• Oversees fund solicitation from businesses, government agencies, private foundations, and other granting agencies on behalf of the Museum and Society. The Executive Director shall also assist in the annual campaign, membership drives, and other annual fundraising activities.
• Seeks and nurtures strong community partnerships.
• Administrative duties include conducting staff meetings, supervision of all paid and volunteer staff, attendance at all committee and Board meetings.
• Directs all department and project leaders, such as Collections, Archives, Education and special events to ensure maximum efficiency and adherence to Standard Operating Procedures and safety.
• Management and oversight of facilities and capital projects.
• Attends on behalf of Museum and Society local government and appropriate civic and community group meetings.
• Serves as the official representative and spokesperson for ICHS in correspondence, organizations, and public activities.
• Develops and conducts, with the approval of the Board, all ICHS programs and activities.
• Works with the Treasurer and Finance Committee in preparation of the annual budget and Board meeting reports, and ensures adherence to approved budget throughout the year.
• Responsible for ensuring Curatorial Policy, development, and administration of all personnel policies and Museum collections.
• Use your experience and creativity to advance our mission and practices.
• Jump in and do what is needed when called upon!
BENEFITS:
• $5,000 annual health stipend
• Washington State Paid Family and Sick Leave
• 2 weeks paid vacation to start
• Flexible scheduling
TO APPLY:
Provide cover letter, resume, and three professional references. Send to ed-ichs@whidbey.net
Position is open until filled. Please, no telephone calls.