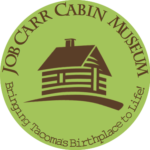 Website jobcarrcabin Job Carr Cabin Museum
Bringing Tacoma's birthplace to life
Volunteer and Visitor Services Coordinator
Job Carr Cabin Museum is successful because of its loyal and dedicated volunteers. This position requires a person who is a strong and empathetic communicator, and an enthusiastic museum ambassador.
RESPONSIBILITIES
Acts as the primary staff liaison to museum volunteers and interns.
Provides direction, coordination, and consultation for visitor services and volunteer functions within the museum
Works collaboratively with the museum team to establish goals, policies, and vision for the volunteer and internship program.
QUALIFICATIONS
Experience in managing volunteers, volunteer training, and customer service strongly preferred.
Demonstrated ability to effectively and professionally communicate orally and in writing.
Computer literacy with Microsoft Office, including Word, Outlook, and Excel.
Physical ability to perform essential functions of the job.
Ability to adjust hours to accommodate the needs of the job.
Ability to effectively manage a wide array of tasks, projects, and responsibilities.
Successful clearance of criminal background check.
Proof of vaccination against COVID-19
COMPENSATION
This is a part time position of approximately 10-15 hours per week. Rate of pay is $18/hr.
APPLICATION
If interested in this position, please submit resume, cover letter, and list of three references to jobcarr@jobcarrmuseum.org. Position is open until filled.