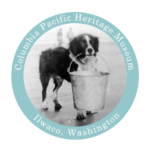 Website Columbia Pacific Heritage Museum
Title: Digital Programs and Outreach Coordinator
Hours: 12 hours per week (Must be able to work during occasional weekend and evening programming)
Starting Wage: $18-20/hr
Location: Columbia Pacific Heritage Museum, 115 SE Lake St. Ilwaco, WA 98624
General Description:
Join a dedicated team that is devoted to interpreting local history and culture for visitors and surrounding communities. This position will coordinate and develop both digital and in-person museum programming for a range of target audiences, from children to retired adults. This position will also be responsible for acting as an outreach coordinator to ensure local organizations, hoteliers, tourism agencies and others who interact with locals and visitors can effectively market our programs and exhibits to their guests and constituents.
Essential Functions and Responsibilities:
Programs:
Responsible for development and execution of digital and in-person programming such as speaker events, kid's story hours, book readings and signings, etc. During heavy tourism months, the coordinator will be responsible for organizing and running an in-person or digital program with an invited presenter at least once per month. The coordinator will also maintain a collaboration with Ilwaco Timberland Library to offer monthly activities for youth museum visitors such as Take & Make kits, history based DIY projects or story times. For the year 2022, the coordinator will work with the director and a committee to implement a youth based digital walking tour project being sponsored by the Smithsonian Museum's on Mainstreet Coming Home Project.
Outreach:
Along with the PR Manager and Director, the coordinator will ensure local organizations, businesses, and tourism agencies are engaging with our programming to ensure active participation from visitors and locals alike.
Required Knowledge, Skills and Ability:
Applicant must be organized, enthusiastic, energetic, and have a passion for working with various audiences of varying ages and interests. Creativity and enthusiasm for developing new ideas and new programs is essential. Time management skills and the ability to manage a variety of responsibilities and work independently are very important. Past experience with educational programming development and management is very desired.
Preferred Qualifications:
Bachelor's degree or equivalent work experience preferred
Educational programming development and implementation experience
Experience in child education
Basic technology and computer skills
Graphic design knowledge
Experience supervising volunteers
Museum, historic site, or non-profit experience
How to Apply:
Applications will be accepted until January 28th, 2022 or until the position is filled
Email a cover letter, resume, and 3 references (professional or academic) to Madeline Matson (CPHM's Director) at madeline@cphm-ilwaco.org
Include job title in the email subject field.
Please indicate the location where the job was seen.
Please visit our website at www.columbiapacificheritagemuseum.org.
If you have questions, call us at 360-642-3446